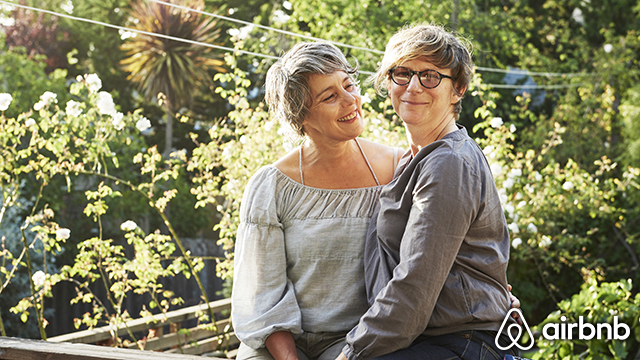 We just did a post about ETSY last week and I came across this story on the Airbnb blog and I had to share. A woman by the name of Suzie had a just launched her new ETSY store called BadAssOldThings. Beverlee was shopping on the site and found some old boots that she fell in love with and saw that Suzie was local and asked if she could stop by to try on the boots. Beverlee purchased the boots and Suzie found herself her first sale and a new girlfriend. The two fell in love and now host on Airbnb.
Love is Welcome Here: Our #HostWithPride Film
Have you heard of Airbnb Inc.? You can rent unique places to stay from local hosts in over 190 countries. Airbnb has created a trusted online marketplace where you can find a unique dream vacation. Finding places and experiences to stay that you would never find on a regular travel booking site. You can find unique places to stay for the night or the month, like a sailboat, castle, apartment, or even a tree house.
The reviews posted on Airbnb are written by travelers (or hosts) from the Airbnb community, based off of someone's stay with that host's listing. Guests can also submit a star rating for their stay in the following categories: Accuracy, Communication, Cleanliness, Location, Check In and Value. By using the service that Airbnb offers it makes your booking or listing your space effortless!
Are there any added fees?
Yes, there are four different types of fees that can be charged: cleaning fee, extra guest fee, guest fee and currency exchange fee. You can find out if the host charges these fees in the description of their listing. The Airbnb charges a guest service fee and the amount is based on the subtotal of your reservation. For more information on service fees click here.
The company was founded August 2008 in San Francisco, California and is privately owned. Their mission statement is "Airbnb connects travelers seeking authentic experiences with hosts offering unique, inspiring spaces around the world." ~ Airbnb