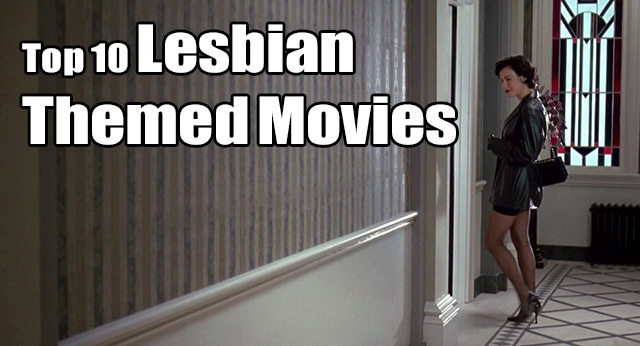 I'd probably call myself a bit of a movie buff – I'll watch bad movies for fun, and I'll watch great movies to be inspired, to be educated, and sometimes… to cry if I really need it. In this YouTube video we came across here at GFM, you'll find both types – we'll let you decide which ones fall into which category! As you can obviously see – this is a list of some of the best lesbian themed movies. I can name about 20 more I could add to the list, but we'll stick to these 10 for now… Who knows, you might see another one of my famous lists on sooner than you think! For now, curl up on the couch with your partner/spouse/friends, binge on some popcorn, and enjoy!
10. Pariah (2011)
A beautiful story, Pariah is about a young African American teenager, Alike, who knows who and what she is… But can't confide in her family. Her mother is overbearing and traditional, and her father? Well, let's just say he just likes to stay out of things. Alike's mother forces her to befriend a colleague's daughter – who turns Alike's world upside down, and shakes it up a little.
Alike: [reading] "Breaking is opening, and I am broken. I am open."
9. D.E.B.S. (2004)
Who didn't love Charlie's Angels? Well, I didn't haha. However, I LOVED D.E.B.S.! The one liners alone were hilarious. Comically, this movie will make you laugh, and have great time. Dramatically, it kind of falls short. This wasn't supposed to be a heavy-handed drama about two lesbians falling in love despite being on opposite sides of the law… So if that's what you're looking for, move on to one of our other titles on the list.
Amy: "Wow. Lucy Diamond, she's…"
Max: "What?"
Amy: "Real…"
8. Bound (1996)
You really can't go wrong with the Wachowski sisters. Bound was the first full length feature they directed together. The story revolves around the relationship between Violet and Corky who hatch a plan to steal $2 million of mafia money. This is a beautifully crafted film – if you've seen any of the Matrix movies, you'll understand what I mean. I highly recommend watching it! This memorable film features Jennifer Tilly and Gina Gershon.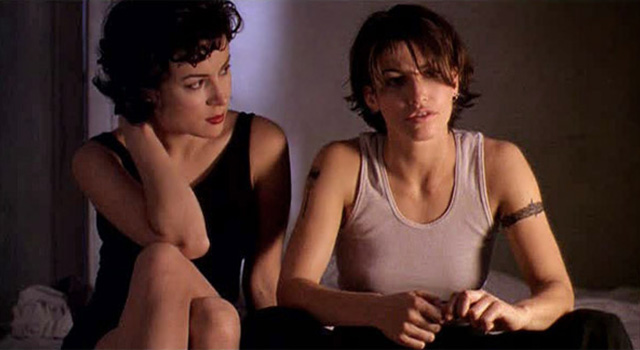 Corky: "What are you doing?"
Violet: "Isn't it obvious? I'm trying to seduce you."
Corky: "Why?"
Violet: "Because I want… to"
7. Saving Face (2004)
This movie was hilarious… Totally relatable to anyone who has had difficulty coming out to a super traditional family (Um… ME). So yes, this movie is about a lesbian, Asian surgeon who can't come out to her family… But, PLOT TWIST – her 48 year old widowed mother is preggers! Dramaaa! Since our leading lady's (Wilhelmina's) mother won't reveal who the father is, the grandparents throw her out of the house, forcing her to move in with her daughter… Who is developing a romantic relationship with openly gay, and also Asian, Vivian.
Wil: "Oh, my God. You talked to your mother about us?"
Vivian: "Yeah. So?"
Wil: "SO? Does she know we have sex?"
Vivian: [sighs] "No, Wil. She thinks she conjugate Latin verbs.
Wil: "Really?"
6. Stranger Inside (2001)
After doing some time in juvie, Treasure is transferred somewhere a little more hardcore… Actual prison. This was her plan all along, since it's where her birth mother, Brownie, is. Just like with Bound, there's no actual coming out story… but there are still a buttload of LGBT themes, like trying to gain the approval of your loved ones.
Brownie: "To find you now… [sighs] That's like, a miracle"
5. Imagine Me & You (2005)
During her wedding ceremony of all places, Rachel (Piper Perabo) notices Luce (Lena Headey) in the audience and feels an instant connection. The two become close friends, and when Rachel learns that Luce is a lesbian, she realizes that despite her happy marriage to this guy actually named "Heck" (Matthew Goode), she is falling for Luce. As she questions her sexual orientation, Rachel must decide between her stable relationship with "Heck" (yeah I don't get it) and her exhilarating new romance with Luce.
Rachel: "What does the lily mean?"
Luce: "The lily means…" [pause]
Luce: "The lily means, "I dare you to love me"
4. The Kids Are Alright (2010)
Lesbian couple Jules and Nic (Julianne Moore and Annette Bening) have been together for almost 2 decades and have two teenagers together named Joni and Laser (what's with these crazy names?), who were conceived via artificial insemination.Understandably, Joni and Laser are curious about their biological father, a restaurateur named Paul (Mark Ruffalo), and attempt to seek him out. Complications arise when the teens bond with Paul and invite him into their lives.
Paul: "Hey, it's already hard enough to open your heart in this world. Don't make it any harder"
3. But I'm a Cheerleader (1999)
Megan (Natasha Lyonne – geeking out right now!) considers herself the typical, all-American girl. She gets good grades, she's a cheerleader… She has a boyfriend… But here's the catch – she hates kissing him. She's stunned when her parents send her to True Directions, a "pray the gay away" boot camp. While there, Megan meets a rebellious and unashamed teen lesbian, Graham (Clea DuVall). Though Megan still feels confused about her sexual identity, she starts to develop feelings for Graham.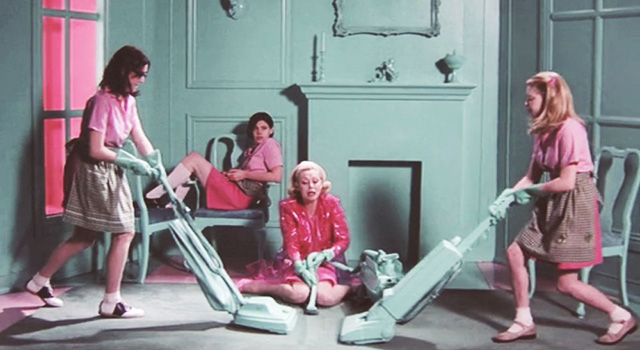 Megan: [after Graham kisses Megan for the first time] "I'm not supposed to like you"
Graham: "But?"
Megan: "I wanna do that again" [Megan kisses Graham]
2. Carol (2015)
This movie is elegance and class all the way through… But really, with Cate Blanchettm what else would you expect? Picture the 1950's, and what people thought to be proper behavior. This plays a large role in Carol. Therese Belivet (Rooney Mara) spots the elegant and beautiful Carol (Cate Blanchett) checking the doll displays in a 1950's Manhattan department store. The two women develop a fast bond that becomes a love with complicated consequences.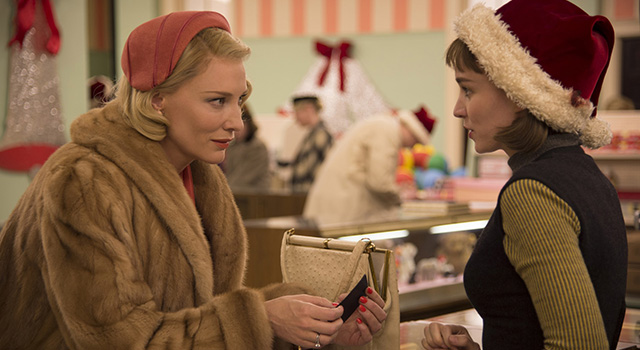 Therese: [on telephone] "I wanna know. I think. I mean, I wanna ask you things. But I'm not sure that you want that"
Carol: [crying] 'Ask me. Things. Please"
1. Blue Is the Warmest Color (2013)
First of all, this movie is over 3 hours long… It revolves completely around a French teen (Adele Exarchopoulos) who forms a deep emotional bond and sexual connection with an older art student (Lea Seydoux) she met in a lesbian bar.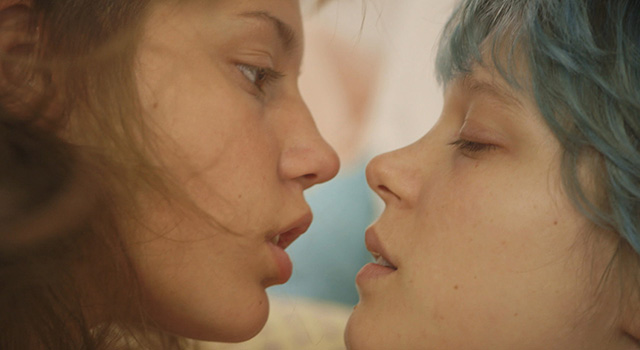 Adele: " I miss you. I miss not touching each other. not seeing each other, not breathing in each other. I want you. All the time. No one else"
What do you guys think of some of the titles listed? Did we list one of your favourites? You know we love hearing from you, so drop us a line!