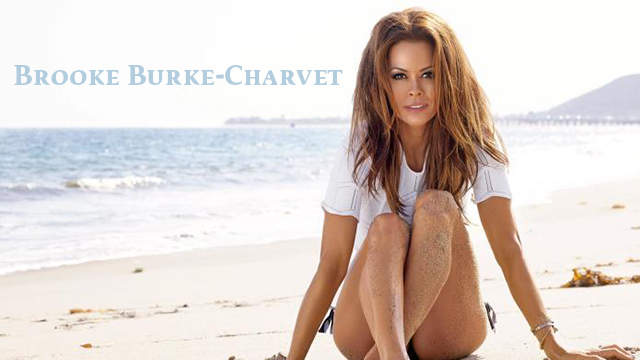 Brooke Burke-Charvet (better known by her maiden name, Brooke Burke) is an American actress, dancer, model and television personality. She started her career in television in 1998 on the show Pensacola: Wings of Gold.
I am sure there aren't many people who didn't have a huge crush on Brooke Burke back in the 90's. She is beautiful, sexy, intelligent and traveled the world as a television personality for the showWild On! from 1999 to 2002.
Brooke Lisa Burke was born in Hartford, Connecticut and raised in Tucson, Arizona. Her mother Donna Burke is Portuguese and her father George Burke is of French and Irish descent. She was the homecoming queen of her high school and moved on to study broadcast journalism. She has four children (two from her previous marriage to famed plastic surgeon Garth Fisher, and two from her current marriage) and is married to David Franck Charvet, a French singer, actor, model and television personality.
In 2008 she competed on Dancing with the Stars during the seventh season and later co-hosted Seasons 10 to 17 (2010-2013).
She has always loved fitness and staying in shape, and prides herself on taking care of her body. She decided to create her own active wear line called Caelum and is inspired by the culture of an active lifestyle and the challenge to stay stylish and fit. The clothing line is geared towards women who want to be able to wear the clothing at the studio or gym, on the go, and dressed up for a night out. Caelum – an acronym for create, active, evolve, live, uplift, and motivate. Learn more about Caelum Lifestyle.
BROOKE BURKE CAELUM CAMPAIGN SHOOT BEHIND THE SCENES VIDEO from BLVD BRANDS LLC on Vimeo.
Brooke has also added fitness instructor to her resume, leading a workout class in Malibu, as seen on KTLA below.
"I love the physical results and the endorphins of exercise; it's such a stress reliever. I want to uplift women and inspire them and push them to greatness." ~ Brooke Burke