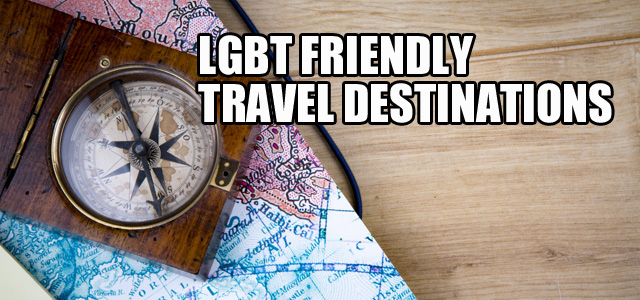 There are many cities around the world that welcome and embrace the lesbian, gay, bisexual, and transgender community. These cities have, in fact, improved and grown economically by attracting one of the most powerful and important social groups of the 21st century. I could take a lot of time and talk about the different Pride parades you could experience, but I'd like to take you on a different journey. Today I focus on LGBT friendly travel destinations so you don't feel like you're restricted to travel only during Pride month. Happy reading, and happy travelling my friends.
1. Köln, Germany (pronounced, and often spelled, "Cologne")
The entirety of my teenage life was spent in this gorgeous city in the North-West region of Germany. My family and I moved there when I was 12, and I don't think I would be the person I am today without having experienced what Cologne had to offer. Cologne is the gay capital of Germany, with 1 in 10 people attracted to their own sex. The residents here are down to earth, a bit cheeky, chatty and open-minded, with a positive outlook on life. For the LGBT traveller, there's lots to see and do – depending on when you visit of course.
Homochrom (October 11th-16th, 2016)
The Homochrom is Germany's largest LGBT film festival, and only costs 8 Euros to attend. Over 1,000 films get sent in in hopes of being shown, but sadly, only a few titles are selected. International film stars are usually in attendance at both of Cologne's theaters showing the festival selections, and at the end of the festival, the audience awards the "Chromie" to the best film.
So, if you and your traveling companions like movies, this awesome event is a great idea – and it won't cost you an arm and a leg.
The Memorial for Gay and Lesbian Victims of Nazism
When we travel, we want to have fun… But history is important as well. Here, in the shadow of the impressive Hohenzollern Bridge, you'll find the Memorial. Its shape is reminiscent of the pink triangle which Nazis used to designate homosexuals. On numerous occasions throughout the year, spokespersons of the LGBT community, as well as representatives of the city of Cologne, commemorate those who were persecuted and murdered.
The "Bermuda Triangle"
Late at night, many of our lady friends in the lesbian community like to come to one of the bars around Schaafenstrasse… Where people can get lost for hours. This is why locals have lovingly branded the area the "Bermuda Triangle". Other than the many bars to enjoy, you could also participate in one of the MANY parties that are thrown around Cologne in different locales every night. One such party is the "Elle World Party" which can be found at "Alter Wartesaal" once or twice a month.
2. Toronto, Canada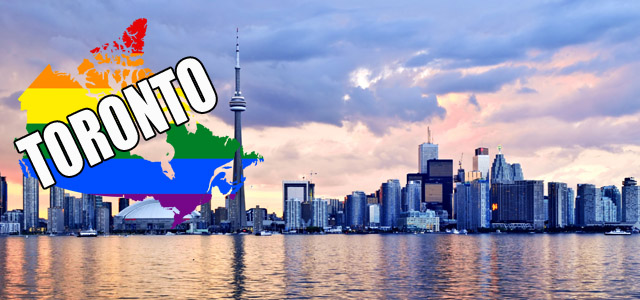 Hallelujah! Let's head to Church – Street, that is. Toronto's Church Wellesley Gay Village is world famous for its terrific night-life, inclusive community center, and fabulous restaurants. Toronto is actually one of the few cities that has two gay villages. The Gay Village at Church and Wellesley has everything a gay traveler could need or want: bookstores, LGBT-owned accommodation, queer theater, and gay and lesbian bars catering to all flavours and tastes. The Queer West Village is edgier, with funky restaurants and a number of queer-ish mixed bars. As you can plainly see, Toronto has a lot to offer you and your group of wanderers.
Slacks
This place is the only actual lesbian bar in Toronto, and is a lesbian bar day and night… Meaning, it doesn't just "become" a lesbian bar late at night when all the heteros go home. Slacks tends to have a lot of regulars, so it can be hard to meet anyone new there… But the vibe is very much about hooking up. Happy hunting!
Out on the Street
Three floors of gay shopping! Out on the Street offers everything from clothing to sex toys and fetish wear for both men and women.
Crews & Tangos
On the outside, you'll see two converted Victorian houses. On the inside, however, you'll see some crazy shit, that's for sure. I came to this popular club a few years ago with some friends and had the time of my life. Crews & Tangos offers drag-shows, so you know there's always going be some kind of spectacle in the works. The crowd here is always ready to have a good time… Go join the fun!
3. Madrid, Spain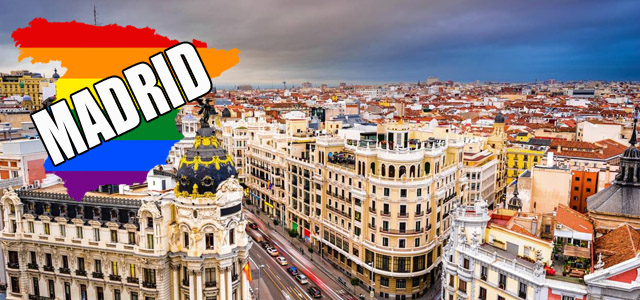 From gastronomy to Gay Pride, Madrid beckons Lesbians. In an article I read a while ago, the writer stated, "Take my advice: Barcelona is for boys and Madrid is for mujeres (ladies)!". Madrid is a European destination where they got over the same-sex marriage debate back in 2005. You'll be hard-pressed to find a local who doesn't believe that that freedom to love whomever you choose is a basic human right – just like good food, fine wine, and all the art you can afford.
Club 33
Club 33 is the oldest lesbian club in Madrid, with more than 30 years of history. Currently, it's the most active lesbian club in the city, with lots of different events for the ladies every week and on Sundays it has special cultural event with exhibits, concerts, games, and speed dating. There is something for everyone here.
The Chueca Neighborhood
This is the most popular gay and lesbian area in Madrid and is very well known for its nightlife. Almost 80% of the bars and clubs here are LGBT friendly, and nearby you can find La Jugueteria, a female-focussed sex shop.
Calles Fuencarral/Hortaleza/Plaza de Chueca
The area between these three streets is packed with small shops where you can buy name brand items as well more alternative fashions. The LGBT community feels right at home here – there are bookstores, sex shops, bakeries, and literally everything else one might need.
4. Tel Aviv, Israel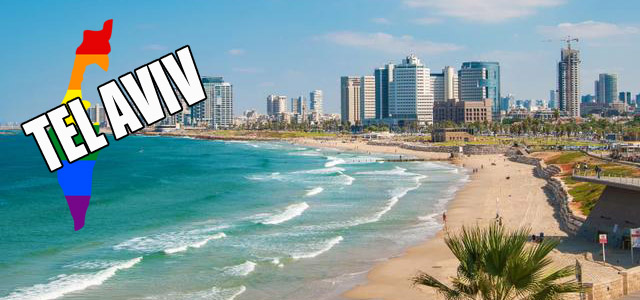 Surprised? Me too! I had no idea Israel was so LGBT friendly. Apparently, Israel is the most gay friendly nation in the Middle East. There are over 18,000 gay and lesbian households in Israel, and over 3,000 children are raised by two father or two mothers. Tel Aviv has the second fastest growing gay family population in the world, with hundreds of workshops and conventions that take place in the city, as well as dozens of professionals specializing in the needs of LGBTQ families in Israel.
Amazona Bar
Rated as one of the best lesbian bars in Tel Aviv, Amazona is exclusively for women. It has a great, intimate atmosphere, and the drinks aren't too outrageously expensive either. Only ladies over the age of 24 are allowed entrance, so you won't have to deal with annoying "I'm finally legal!"'s.
SexyShop
Opening in 1996, SexyShop is Israel's first sex toy shop, and most prominent. SexyShop is an excellent place to get updated information about the local LGBT scene. The staff here is super helpful, friendly, and willing to provide tourists with maps and invitations to the local parties. SexyShop is also very involved in the local gay and lesbian scene, contributing on a regular basis to the various LGBT organizations.
Tel Aviv Pride 2017
Ok, so I know I wasn't going to talk about Pride at all, because I feel like that's what everyone talks about when recommending a destination to the LGBT traveler. But Pride in Tel Aviv seems a little more important because it's the largest (and the first) in all of Asia and the Middle East. The first Pride Parade was held in 1993, and was more like a political demonstration rather than a festival of celebration. With attendance increasing every year, hopefully other countries in the Middle East will start looking to Israel as an example of the ways in which tolerance and diversity benefits the nation as a whole.
5. New Orleans, USA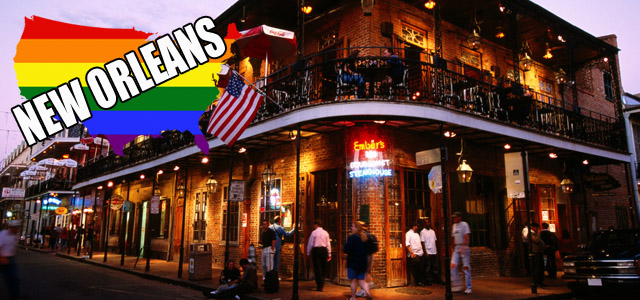 How can I explain how insanely queer this city is? I'll try my best… Breaking down roles, re-creating identities, writing our own stories, and celebrating the uniqueness of our culture is ingrained in the essence of New Orleans. The city is incredibly diverse; the culture of the city grows out of African and Caribbean, French creole, German, and Spanish influences. There's a thriving young queer and trans population, and the African-American LGBT community may be one of the largest in the U.S.
Krewe de Vieux
Krewe de Vieux is a hypersexualized, satirical parade through the French Quarter; it's definitely the most overtly queer event of the season, taking place 2 weeks before Mardi Gras.
Tribute
The only true lesbian bar in town, which actually sits outside the city limits in Metairie. Open only on Friday and Saturday nights, Tribute is best for special events – drag king shows, traveling artists, and the occasional lube wrestling competition.
The Country Club
A gay oasis in the relentlessly hot New Orleans summer. The Country Club is a bar and restaurant with a clothing-optional pool (chilled in the summer, heated in the winter), hot tub, sauna, outdoor showers, and a projector for watching movies while you splash around. Thursday is ladies night, with cheap drinks and birthday suits.
*A very important note about safety in New Orleans: While I wouldn't want to deter you from visiting this gorgeous city, New Orleans is notorious for crime. If visiting, please do not wander off alone. Travel in groups, be aware of your surroundings, and don't get too intoxicated to find your way home.
* A very important note for our transgender and gender non-conforming friends: Bathrooms can be an issue in New Orleans. Take a friend with you for safety.
Thanks for reading and have fun seeing the world!