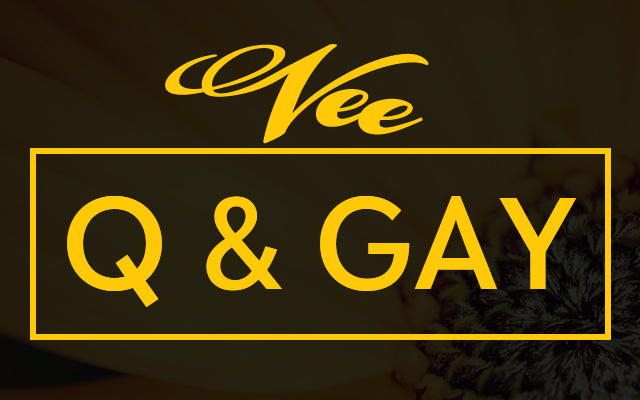 This month's Q and Gay is Vee. She has been with the GirlfriendsMeet team since last year and is a writer and proof reader. She always makes us laugh but don't talk to her before she has her coffee in the morning!
When did you first realize you were gay?
Around the time all of the girls in my class were starting to notice boys, I was starting to notice the other girls instead. Boys were icky to me at the time. Still are.
What advice do you have to people who are struggling to come out?
I was lucky enough to have parents who supported me, even though they may not entirely agree with my lifestyle (my dad still says 'The Gays', as if we are an 80s new wave group). My mum points out attractive women she thinks I will like in public and wonders aloud if they "swing" my way (bless her), and my dad attempts to maintain eye contact with me when someone asks if I'm in a relationship (points for trying, though!). Coming out was scary, though, because you don't know how people will react, regardless of how well you think you know them. I had a friend stop talking to me completely because she was worried I would develop a crush on her (sorry, Kate, I am not and nor will I ever be into flat-chested twig types). But what I realized is that through all of the pain and uncertainty and apprehension and tears, the people who genuinely cared for me as a person were the ones who stuck by my side. You will not be completely abandoned when you come out – there is always somebody there for you. The trick is to surround yourself with people who don't give two shits about such a little thing as the gender you're attracted to.
Who is your favorite celebrity female crush?
I've always had a thing for Jodi Foster.
Who is your soulmate on OITNB?
Crazy Eyes. I feel like we could collaborate on a book. Team Rodcocker for life!
Name three fears:
Centipedes (both human and bug form), air vents in the sidewalk (I go around them, even if it's inconvenient), and balloons. Balloons are terrifying and should not be allowed.
Are you a dog person or a cat person?
Dogs! They love you unconditionally and are super cuddly and they never do that thing cats do where they lie on their backs for tummy rubs and then attack your hand.
The last concert you attended?
A really disappointing local show where a few of the members of Wu-Tang Clan showed up but didn't do a whole set, and they were kinda rude. I got drunk and went home sad and listened to Enter The Wu-Tang (36 Chambers) and ended up accidentally scratching the vinyl, which made me more sad. Then I went to sleep.
Are you afraid of anything?
Suddenly not being able to access coffee in the mornings.
What movies could you watch over and over and still love?
Ghostbusters. Indiana Jones and the Last Crusade. Home Alone.
What is your guilty pleasure when it comes to food?
Nutella. There are nights when I don't feel like cooking, so I'll peel an orange and dip the slices in Nutella while I watch Netflix.
What was your 2015 New Years Resolution and did you keep it?
I didn't make a resolution because I fell asleep on the couch ten minutes to midnight. I woke up at 2 still holding my martini, which is pretty impressive and I don't think I can do much better than that this year, if I'm being honest.
Your favorite inspirational quote:
"Every zoo is a petting zoo, unless you're a little bitch."
Are you currently obsessed with anything?
World of Warcraft. Gotta finish Hellfire Citadel…
If you could have an old muscle car which one would you choose?
A black 1971 Chevy Impala. And NOT because of Supernatural, but because my dad had one when I was a kid and that car kicked all kinds of ass.
Do you have a nickname?
Vee, Noodles