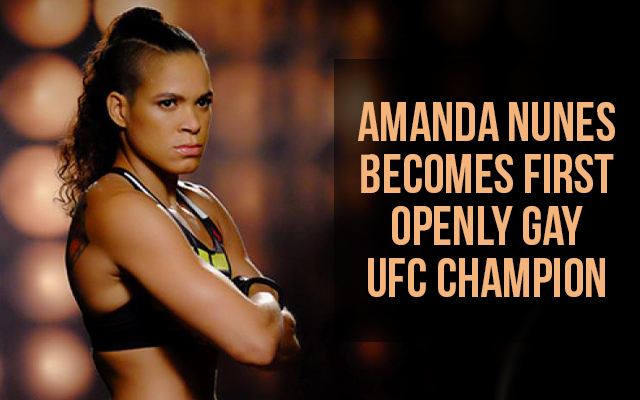 Amanda Nunes' first-round victory over Miesha Tate in the main event of UFC 200 was an outcome few saw coming. But it is the 28-year-old Brazilian's personal story that makes her victory all the more remarkable.
Nunes is the first openly gay champion in the history of the UFC. She's been in a relationship with partner Nina Ansaroff (also a UFC fighter) for four years, and has told numerous sources that she is incredibly happy with her life. In the hours after she wrested the belt from Tate, she stepped up to the opportunity for an underdog to have their day on a star-studded card of already-champions: Tate tapped out after only 3 minutes and 18 seconds.
"To have our very first openly gay champion shows you how far this sport has come," UFC vice president of PR Daave Sholler said to USA Today. "Amanda Nunes is an incredible ambassador. When you talk about all the great moments, having Amanda carry the flag literally and figuratively for the gay community is a seminal moment for our sport."
When trans fighter Fallon Fox revealed in 2013 that she had been born a man, heavyweight Matt Mitrione – then with the UFC – branded her a "sick, sociopathic, disgusting freak" and was given a temporary suspension. In past years, fighters have used homosexuality-related slurs to taunt their rivals, and in truth, such behavior has not been completely eliminated. However, UFC president Dana White has stated that he hopes that any gay UFC fighters would feel safe enough to come out in their community. More recently, the company has launched an initiative called "We Are All Fighters," which is aimed at promoting understanding of the LGBTQA community in southern Nevada.
There were many winners at UFC 200 that night, but perhaps the biggest winner of all was Nunes, who is now part of a women's bantamweight division that brings with it all kinds of intrigue. She now sits alongside Rousey, Holm, and Tate as part of a four-pronged collective at the top of the pile.
"Now I am champion," Nunes said. "Next will be whatever, whoever, they decide to put against me. I am going to enjoy being champion."
Follow us on Twitter @girlfriendsmeet and let us know what you think of Nunes' stunning victory!