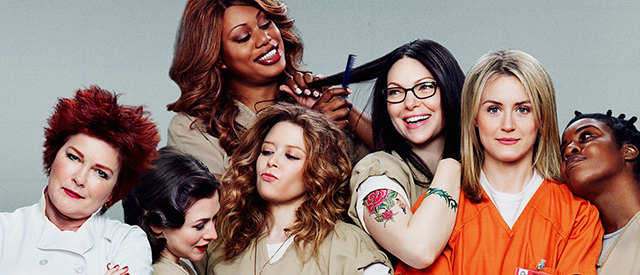 Get your popcorn and re-subscribe to Netflix—Litchfield's most wanted are set to return for a fourth season of Orange is the New Black on June 17th! We're psyched to see a fourth season of the show, and Netflix has settled in for the long haul with OITNB: according to their blog, OITNB has been picked up by the streaming video service for another three seasons (count that: seven total!). Series creator Jenji Kohan has also signed on to remain as showrunner throughout the seven-season run.
Netflix doesn't release its viewing figures, but they have said in the past that the edgy prison drama is—and seems to be remaining—their most popular original series. And for good reason:
"Three more years! Not quite a political term, but still plenty of time to do some interesting things," Kohan said in a statement. "In some cultures, 'May you lead an interesting life' is a curse, but I don't live in those cultures. Here's to keeping it interesting. Thanks Netflix! Both thanks and you're welcome Lionsgate! And kudos and gratitude to the stellar cast and crew and writers and producers and editors and musicians and mixers and shleppers… with whom I have the pride and honor of crafting this show. Three more years! Three more years!"
Indeed.