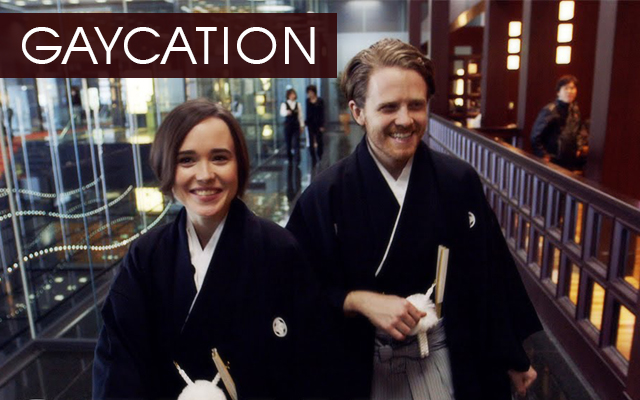 In a refreshingly earnest and honest way, Ellen Page and her best friend Ian Daniel travel to Japan in the first episode of their docu-series Gaycation. The series aims to bring educate on and explore LGBTQ culture around the globe, and their inaugural episode, while at times heartbreaking and sad, ends on a hopeful note for gay Japanese culture.
Ellen and Ian first travel to Tokyo and explore a variety of bars in the gay district: Tokyo's oldest (and smallest!) gay bar, a lesbian bar that started out as a 'women only' club, and an invite-only club behind a nondescript door where men can choose from a variety of costumes to dress and act like a woman. In five city blocks, these three of over 300 bars offer just a sliver of what is available to experience in Tokyo's LGBTQ culture, and if the video footage is anything to go by, it's a vibrantly thriving community.
The following day, the pair head to an 8-floor manga store, where they seek out the yaoi ("boy love") section and talk to a couple of women about their enthusiastic interest in gay male erotic fiction. "Homosexuality exists and it is beautiful," one of them states as everyone settles into a soundproof karaoke booth to listen to an extremely graphic yaoi audiobook. A somber cloud, however, hangs over the group as one of the women explains that, while she has many gay friends, most of them say that yaoi does not reflect gay Japanese culture at all: "It's actually quite bleak and not accepted society."
Later, they travel to Kyoto, where gender-inclusive Buddhist weddings are offered by one of the oldest temples in the area. The unions are not recognized legally, of course, but it begs the obvious question: if religion is not an obstacle to acceptance of LGBTQ culture in Japan, what is? The answer is complex and combines a mixture of Japan's culture of shame, a widely-accepted "don't ask, don't tell" mentality, and the slow-to-change acceptance of out gay people.
Coming out in Japan is complex, and many gay people find that they (understandably) simply cannot face their family alone. Mr. Ishii in Kyoto owns a company that essentially provides a wide variety of people you can rent to pad weddings, parties, and anything else that might require anywhere from one to a few dozen extra 'friends'. Recently, gay people have been contacting him to accompany them while they come out to their families. In an interesting twist, Ellen and Ian are asked by a client of Mr. Ishii's to go with him—along with Mr. Ishii himself—while he comes out to his mother.
Coming out is, ironically, an intensely private affair; the American pair seemed reluctant and slightly uncomfortable being in close quarters at such a crucial moment in a young man's life. The doorbell chimed, and his single mother entered the room. After somewhat stiff introductions, the young man told his mother he appreciates her, and then explained that he is gay, and currently in a relationship with another man. The silence afterward was deafening, and the boy's mother calmly said, "I'm sorry. I can't do this," and stood up and left. Mr. Ishii went after her, leaving Ellen, Ian, and the young man alone in the room. Several heartbreaking minutes later, the mother and Mr. Ishii came back inside, and she apologized for leaving. "I'm sure society will treat you differently, but I still wish you the best," she said over the sound of my quiet sobbing.
On April 1st, 2015, the Shibuya ward of Tokyo became the first in Japan to recognize civil unions for same-sex couples. It's a small step, but a step in the right direction nonetheless, and also towards an increasingly bright future for gay culture in Japan. Gaycation is definitely worth the watch, if not for the travel, at least for the idea that, someday, society will catch up to us.