At this point I don't even have to explain why Orange is the New Black is one of the greatest TV shows running and one of Netflix' most popular. Since the first season this show has gotten rave reviews bringing us a new kind of show that seamlessly captures drama and comedy as well as displays new types of intricate relationships.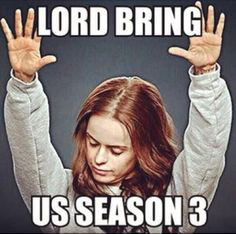 The news just keeps getting better. Remember last year when season 2 aired and everybody booked off the day at work to binge watch the entire season on Netflix and then go back and watch the first season again before watching the second season once more. Okay, admittedly, that could have been just me but nonetheless I'm sure you were wrapped in your snuggie hating Vee alongside every lesbian in North America.
Finally, the news we have all been waiting for is here! I'm sure you probably know what I'm talking about and have known before even reading this article but here it is on another media source just to clue you in! Orange is the New Black season 3 will be available on Netflix starting June 12 of 2015.
It keeps getting better and better though. FINALLY Larry is gone! That's right! The dreaded character Larry Bloom played by Jason Biggs will no longer be in the series come Season 3 and we get to see a whole lot more of the sultry Laura Prepon. If you can't wait for that they just put That 70s Show on Netflix so you can binge watch her until June 12th also known as the greatest day this year. I don't even care about my birthday as much as I care about the next season.
Laverne Cox is back and still standing strong the sassy woman who brings incredible light and dimension to a human issue that exists in the real world.
I can't wait to see what unfolds in the relationship between Daya and Bennet. Will pornstache learn his place and butt out for good? I also need to see the ending of Poussey's story because it started out as something I didn't expect at all.
I can't wait to hear about your predictions and I'm not going anywhere with mine. You can find me chatting about it on the Orange is the New Black forum on GirlfriendsMeet. It sounds like a shameless plug but seriously sign up if you haven't or log in and we'll talk it out.
There are more Orange is the New Black articles to follow in the next few weeks that feature some footage that my team here has dug up on the web and in case that isn't enough dig through the archives and see what we were saying before about this glorious show. We have crazy eye's dating tips, Laverne Cox speaking out about being a transgendered woman and our special Happy Holidays beatbox edition from Black Cindy.
The anticipation is bubbling and I can't wait!