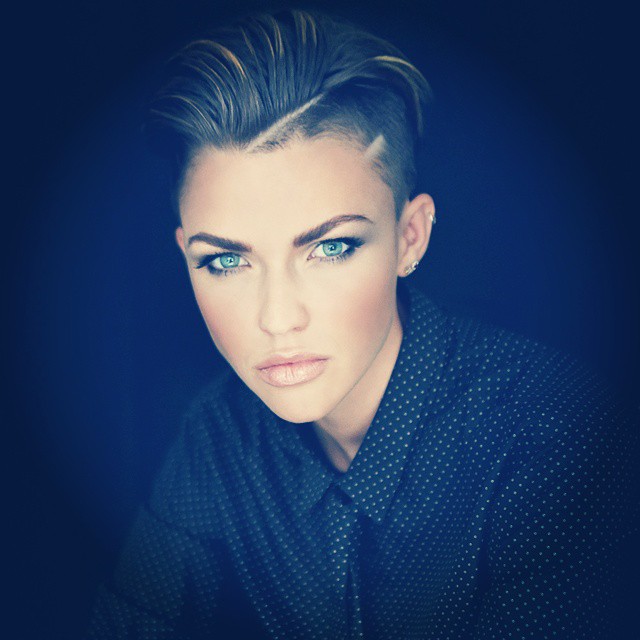 I'm sure you've heard that Ruby Rose will be joining the cast of Orange is the New Black next season and part of this is why she is our woman crush for this week. That and because she's basically super awesome in every way that a person could be. She became super popular with her transgendered video Break Free featuring her gender fluid self changing from a female to a male.  So this week I've compiled a list of five reasons why Ruby Rose is my woman crush this Wednesday.
She drank 100 shots of beer in 100 minutes with skateboarder Bam Margera. I mean, I won't condone drinking but destroying 100 shots in less than 2 hours is super badass. Especially against somebody who is a known party animal. Lately though she's been sober and has been very open about her times struggling with alcoholism and depression.
She boxes. Not only that but she boxes for charity. That's right Ruby Rose took to the ring to knock out her opponent, Yi Sia to earn money for a mental health charity called Headspace. This could be an ode to her father, Lionel Edmund Rose, who was a bantamweight boxer and the first Indigenous Australian boxer to win the world title. She also has a boxing tattoo on her shoulder.
She's dating Roald Dahl's granddaughter. That's right your favorite childhood author who wrote classics such as Charlie and the Chocolate Factory and Matilda. Phoebe Dahl is the designer of the fashion label, Faircloth, which only sells ethically sourced garments. Rumor has it that they just might be engaged.
She does charity work. You already know about her work with mental health and the organization Headspace but she also works with animal welfare organization, anti-bullying organizations and travels to Lao and Africa to volunteer her time every year. She has a way of making charity cool and bad ass.
She's going to be on Orange is the New Black. I can't stop talking about it but since the news hit just can't get over it. That's right this Australian beauty will be playing the love interest of both Piper and Chapman on the show, she's got a snazzy new hair cut and she's making her acting debut. I think that she'll fit right in.
So all in all Ruby Rose is crushable in every way. She has a perfect face, she advocates for the perfect things and she's a bad ass tough chick. She's definitely an ultimate women crush for everyday. Who is waiting for Orange is the New Black season three!