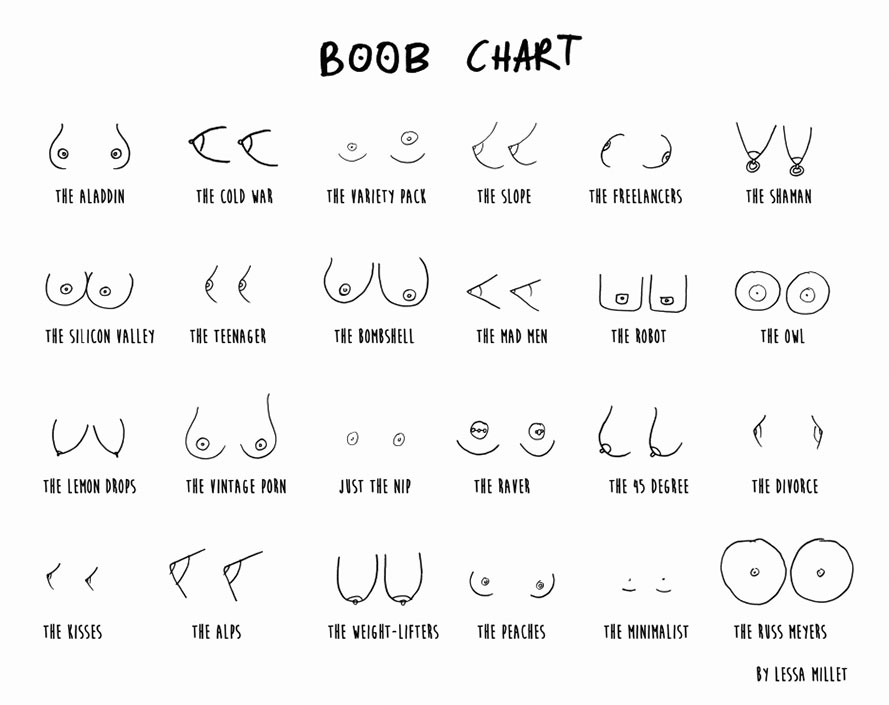 Lessa Millet, an artist who is taking over Instagram, just released her version of a boob chart. Do any of you remember reading fashion magazines when you were younger and trying to determine if you would be a peach, pear or watermelon. The idea of her boob chart is similar to that and another way to embrace body acceptance. She often posts a few at a time but luckily made a whole chart/poster for Slutever that we absolutely love. So take a look, read a bit and if you're in a fun mood see what boobs you're rocking.
The Aladdin: Imagine the curves of that gorgeous genie lamp right on your chest, just don't rub without consent.
The Cold War: These are your hard missiles on cold days, we have definitely all been there. All I can imagine is Tank Girl though.
The Variety Pack: Yes, women can have two different cup sizes and it's perfectly beautiful, natural and okay.
The Slope: It's exactly what you think it is, a cute little slope for those boobs without bras.
The Freelancers: These nipples go their own way, just like freelancers. They're not straight on but they are lots of fun.
The Shaman: These aren't natural they're fun pasties or clamps. Decorating your boobs is half the fun. Cover that nipple to leave that surprise.
The silicon valley: These are for the girls who are courageous and went under the knife. You knew what you wanted and you didn't let anything stop you.
The teenager: Still growing or looks like it.
The Bombshell: All natural, double D's, thank you Marilyn Monroe, you're beautiful!
The Mad Men: The pointed boobs of the 1940s-1950s before women burned their bras. Sometimes in nature these occur naturally.
The Robot: Boobs that are a little square without a bra but absolutely fun and lovable.
The Owl: Completely round like two owl eyes looking at you. How many licks does it take to get to the centre of a tootsie pop?
The Lemon Drops: Nipples just like that outside part of a lemon … does that part have a name?
The Vintage Porn: These lovely boobies are soft, big and all natural. They might even come with wild, untamed hair down there.
Just the Nip: Tiny little titties that just look like a nipple resting on a beautiful chest.
The Raver: Nipple piercings because you never know when your neon bra will be drenched in sweat and you still have to look accessorized.
The 45 degree angle: They're exactly what they sound like… do I need to explain?
The divorce: You can tell these beauties were once perky, since then they've been weighed down and yet they're still as in the game as ever.
The Kisses: Tiny, perky with just that point to the end.. as sweet as Hershey kisses melting in your mouth.
The Alps: Like the mad men but of course they point upwards exactly as you would expect them to from the name.
The Weight Lifters: Elasticity lost with age these need a double support bra or you can allow them to hang free and not care what society thinks
The Peaches: A handful of juicy love.
The minimalist: It's a step up from just the nip, a tiny bit of padding there but still petite.
The Russ Meyers: Supervixen boobs that are larger than life. They can be natural or silicon but they're definitely there.
Which boobs do you possess? They're all beautiful and unique and it's nice to know that each day we're becoming more body positive. Don't forget to love yourself and to love others.